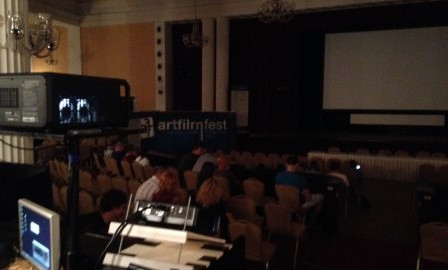 NeoDCP Player at movie festival Art Film Fest 2014
Dear friends and colleagues,
Two instances of NeoDCP Player have been successfully used to screen many DCPs for audience at the international movie festival Art Film Fest 2014. The first one was connected to a DCI-compliant Barco projector, whereas the second one was connected to an ordinary full-HD Sanyo projector to meet special requirements.
Features recognised as very useful
Playlists
Especially for the International Competition of Short Films
Many 5-30 minutes long movies with various frame-rates and aspect ratios were played without interruption so the playback operation crew could have a coffee
Video settings
Simple pre-projection preparation phase assured successful playback
Playback of encrypted DCPs
Many encrypted DCPs have been successfully screened
Subtitles rendering
Fantastic subtitles rendering helped the audience to achieve better experience
Did you know that the NeoDCP Player is the only DCP player with DCI-grade subtitles rendering? Those of you who understand know that only this way you will see  what a movie authors originally intended the audience to perceive
Digital masking
Important feature that allowed the projection crew to relax when preparing for projection
Many cinemas have projection screens with different aspect ratios. Normally it is quite a challenge to correctly setup a projector for screening to match the screen area. Digital masking makes everything very simple
Secret button 'B'
Did you know that when you are focused on the playback screen and press 'B' it will highlight the digital mask? If you are an cinema, try it yourself and let us know if you like it 😉
Support for so-called supplemental DCPs
Yet unreleased feature that will be published very soon for all of you
Finally, here are a few photos from the projection:
(more to come soon)
Important note for all
NeoDCP player has been recognised as much more effective solution to project DCPs for audience than rentals of expensive DCP servers. Here are the reasons:
Rentals of DCP servers are very expensive
Their usability is too old-style and difficult
For the price of DCP server rentals you can get at least 2 professional licenses of NeoDCP Player
You will never get such power over the playback quality with rented DCP server as you get with NeoDCP
You can always borrow the PC with NeoDCP Player to your colleagues
Last, but not least, usually with renting DCP server you must pay the DCP server projection crew. This may be very costly too. NeoDCP Player is so simple so your technician will learn using it within max. 30 minutes. Save some money with us!
https://www.neodcp.com/wp-content/uploads/2014/06/neodcp_artfilmfest.jpg
336
448
Neo
https://www.neodcp.com/wp-content/uploads/2013/04/logo2_07_2_0.png
Neo
2014-07-01 21:23:41
2018-04-24 18:40:17
NeoDCP Player at movie festival Art Film Fest 2014