NeoDCP Player v2.75 – Insert intermissions into CPLs
Dear friends!
There is a new version of NeoDCP Player available again. V2.75 contains a long awaited feature – Adding intermissions into DCP/CPL in Playlists. Moreover you may specify the playout range for each CPL you are opening, thus the player allows you to cut CPLs in arbitrary way, so you may, for example, watch Memento in a linear order… 🙂
Mark R., Mark T., Paulo and others, thank you all for the idea!
Official release notes:
NeoDCP Player v2.75 (21st May 2015)
Added support for overriding CPL playout ranges – this is very useful when inserting intermissions into CPLs
Database engine updated
CPL marker positions could be calculated incorrectly when the 'Play full lengths' option was ticked
Recommended workflow for 1 intermission:
Review your DCP/CPL to find the exact frame number before which you wish to place the intermission. For example, your CPL has 240 000 frames and you wish to put the intermission just before the frame 100 000.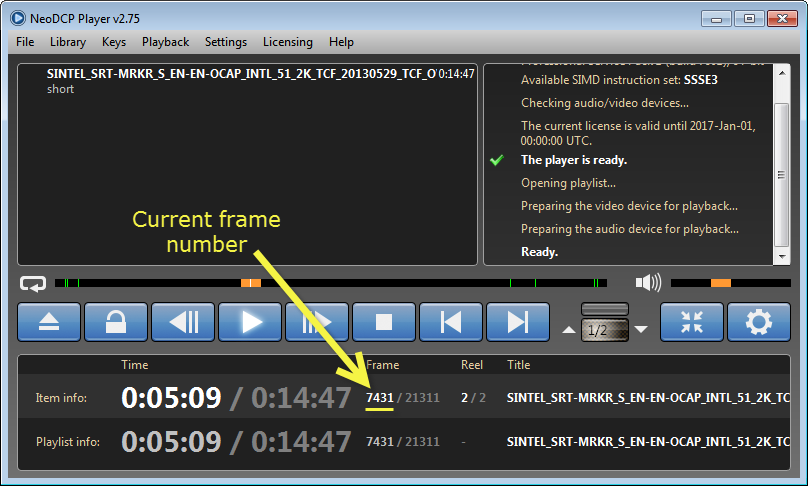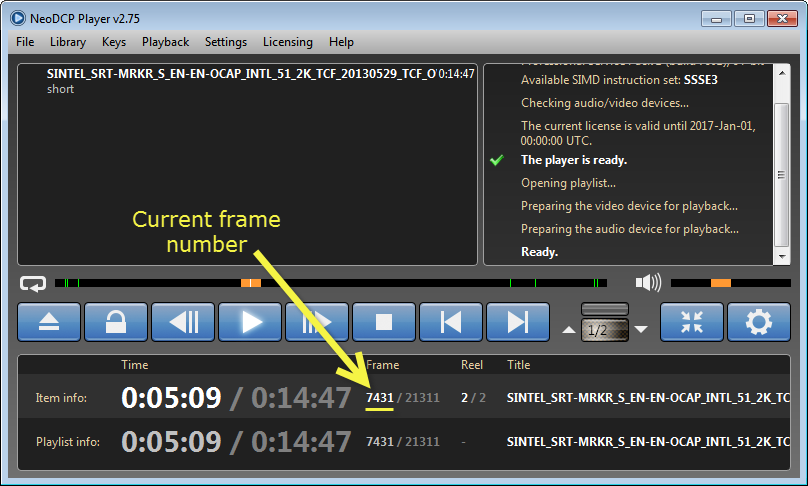 Create a playlist containing 3 items: CPL, pause and CPL. Yes, the same CPL is in the playlist twice. In advaced options for the first CPL occurrence choose the entry-point frame number 0 and the exit-point frame number 100 000. For the second CPL occurrence choose the entry-point 100 000 and the exit-point 240 000 (or, alternatively, 0).
Save your playlist and open if from File menu -> Open playlist..
That's it.
Enjoy!
If you're not happy tell us, if you're happy tell others!
https://www.neodcp.com/wp-content/uploads/2015/05/neodcp_2_75_header.png
237
836
Neo
https://www.neodcp.com/wp-content/uploads/2013/04/logo2_07_2_0.png
Neo
2015-05-22 13:11:16
2015-05-22 14:30:21
NeoDCP Player v2.75 – Insert intermissions into CPLs